Hey there,

My name is Jordan Hall, Marketing Manager with Blink Publishing, and today we're thrilled to tell you about our newest relationship program for women: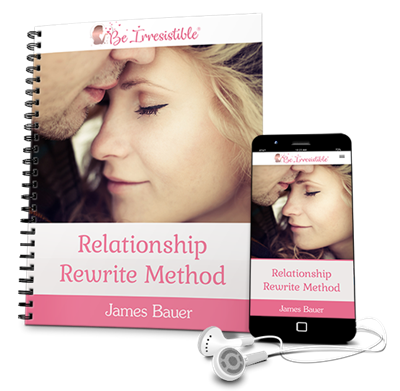 The Relationship Rewrite Method is an ultra high-converting Ex-Back program designed exclusively for women.
It helps women solve one of the most gut-wrenching relationship situations: getting broken up with.
The Relationship Rewrite Method presents a revolutionary approach to fixing relationships, because it
works across the full spectrum of troubles
, from the man who goes cold after a bad fight, all the way to the full-scale, catastrophic breakup.
And
this bigger range of solutions means more conversions
for you!
The Relationship Rewrite Method helps women rewrite past mistakes in their relationship and forge new, deeper bonds of love. It provides the missing training that can mend the wounds of the heart.
One of the most powerful parts about this method is that
it works even if her man is currently ignoring her calls and texts!
But we'll speak more on this later.
We've tested this program and women love the Relationship Rewrite Method! The course is flying off our digital shelves, and it's helping save relationships everywhere.
And in the process of doing so much good, this offer is on track to earn our affiliates millions of dollars!
Just look at what one affiliate had to say about his recent test promotion.
"... These epc's are ridiculous. I just looked over the stats and the epc's were around $3.37!

I'm going to promote again in a few weeks because I obviously need to get more women to your VSL!

Congrats, it looks like you've got ANOTHER winner!!!!"

- Bob Grant
RelationshipHeadquarters.com
Commission Structure
We're paying out a MINIMUM of 75% on every product in the funnel; this is on the front-end and the back-end.

And after you've gotten just 5 simple sales, just let us know and we'll bump you up to 90% front-end and upsell commissions. And these 5 easy sales can be from any of our previous courses during any time-period.

It's easy to get 90%! We want to give it to you. We want to give you every edge we can, so you can be profitable! Because when you win, we win too!

Our funnel has been carefully tested and optimized. We've honed this offer into a conversion machine because we know how hard it is to generate traffic… especially traffic that converts.

Bottom line: You can fully expect this to be a blockbuster promotion for you!


What Is Relationship Rewrite Method?
The Relationship Rewrite Method is a breakthrough program written by relationship expert James Bauer, and it's based on over 12 years' worth of research, consulting, and experience.

The Relationship Rewrite Method teaches women to use secret emotional triggers to reclaim a man's interest and prevent him from growing distant or pulling away.

It's these emotional triggers that can bridge the gap with even distant men.

Plus with James' "foot in the door" technique, women can bring him back, even if he isn't talking anymore.

And by using special embedded compliments and metacommunication techniques, women can touch on deep emotions and open up their relationships to love again.


Affiliate Promotion Tools
Sign up below to get access to top notch affiliate promotional tools, including:
High converting email swipes
High-converting presell articles
Alternative landing pages
Banners
Social media images
Powerful hooks and angles for crafting your own pitches. These are built to enhance whatever traffic source you're using, to help you set yourself apart from the competition.
Buyer demographics and details
Access to exclusive Facebook group
Traffic experiments you can model for your own promotions
We'll also continue to release new affiliate tools, creatives, and tutorials to give you everything you need. So whether you have an email list, blog, Youtube channel, Pinterest, Instagram, Facebook group, etc... we've got you covered!
And this year, to show how serious we are about helping you, we've gone and done something I think you're going to love...
We've headhunted some absolute rockstar affiliates and asked them to share their traffic methods and marketing ideas in our affiliate success newsletter which you don't want to miss if you want more traffic.
If we don't have the affiliate tools you're looking for, just ask and we'll create them for you!
Keep In Touch
Please feel free to contact us with any questions or special requests. We're looking forward to making this your best promotion to date! Now go ahead and click below to get started.
To your success!
Jordan Hall
Marketing Manager
[email protected]
Results may vary. No guarantee of success with this affiliate program is implied. All commissions are paid from sales of Clickbank products, commissions are paid by Clickbank.
In order to qualify for the 90% commissions you must have 5 sales with us (from any time period), and request the 90%. This is because we have to manually raise your commissions from the default max of 75% for the front end product and the upsell products. You can learn more about how Clickbank pays their affiliates
here.