1152 people are watching our videos now, so this may take up to 10 seconds to load

Relationship

Rewrite Method

A powerful way to rediscover the magic and love you once shared and draw your man irresistibly back into your life for good.
Hi, I'm James Bauer, and I'm so glad to tell you more about Rewrite Your Relationship.
If you feel like things are falling apart with your man... If he's already out the door... If your heart hits the floor every time you check your phone and he still hasn't responded... If you're at the point where nothing else matters except getting him back...
Then you are in the exact right place doing the exact right thing...
Because, while several of my courses touch on this topic, and oftentimes do the trick, none of them are specifically designed to get your man back at all costs.
And what you're about to discover here may be the only REAL chance you have to ever get your man back for good.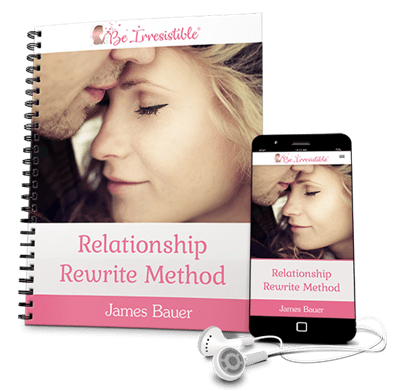 Why Most Women
Fail To Reconnect

With Their Ex

Before you do ANYTHING else, I'm going to show you a quick, simple way to prevent irreparable damage
The heartache you may be feeling right now, the physical pain in your chest, the sinking feeling in your gut... It's miserable and frustrating and it's easy to feel helpless, even desperate.
But if you know there's something special about this man and that you won't feel right until you get him back, there is no time to waste.
Many women will go with their first gut reaction which will almost always do more damage than good.
When you love him so much and all you want is for him to realize that you've built something beautiful and worth fighting for, it's hard not to have a knee jerk reaction to a break up.
But he's in a different place too. And no amount of convincing, pleading or promising will change his mind. Even if he knows you're right.
Because no amount of logic and reasoning will sway him right now. He has to FEEL that he needs to be with you.
He needs to experience the exact right emotions and dwell on the exact right memories that will fill him with a fiery NEED to fight for your relationship.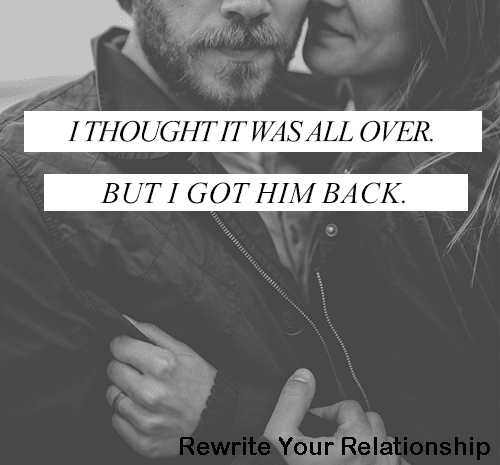 A Love Worth
Fighting For

You see, what I'm about to show you is much more than a step-by-step guide to get your man back.
What you're about to discover is a powerful method to "rewrite" the story of your relationship, to refocus on the love and uniquely romantic moments instead of the bad times..
You can trigger the right emotions and the right memories using simple, easy tidbits of psychology that you will pick up in a heartbeat.
These tipbits will create a happy ending with your man that's more amazing than when you first fell in love.
Yes, you will have the step-by-step instructions on exactly what you need to do and say in order to get your man back where he belongs - at your side.
Yes, you will be able to make him see that you were meant for each other... And that your love is "one of a kind" and worth fighting for no matter what.
Yes, you will be able to close the door on past pains and create a bulletproof bond with your man that's stronger and more intimate than anything either of you have ever experienced.
But more importantly, you will discover just how much power you really you have in your relationship to create the epic fairytale romance you've always dreamed of.
No short term tricks, no smoke and mirrors, no stressful games, and no begging.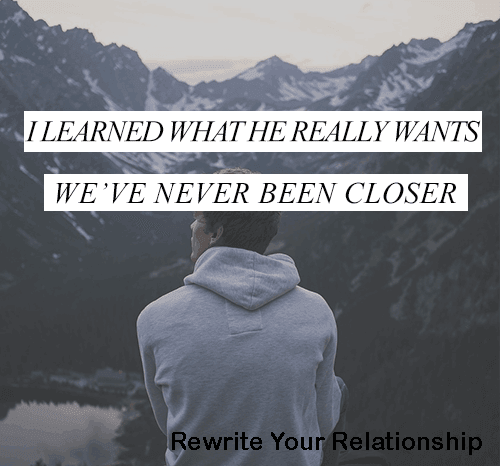 Our
Guide

This is the same powerful method I use in my private coaching practice to bring even the most broken relationships back from the brink.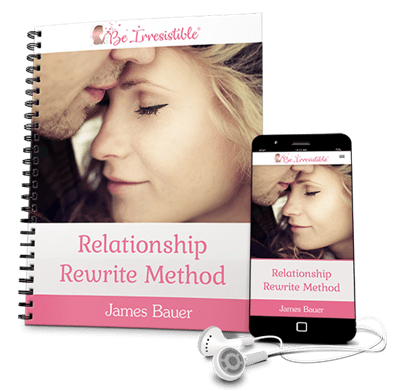 Purchase Now for only $47
No costs for shipping, get instant digital access and get started right now!

Your order is protected by our 60-day, 100% money back guarantee.

All transactions are secure, encrypted and private.
THE SECRETS THAT
WILL BRING HIM BACK

Here are just a few of the things you will discover with the Rewrite Your Relationship Method as you reel him back into your life.
How to get your man back in the shortest time possible -BEFORE it's too late - Using breakthrough neuroscience, boiled down into 6 simple steps any woman can follow.

The truth behind what went wrong- why he hardened inside, what started those long silences, those dirty looks, the resentment, the wandering eyes... And how, in just days, you can shuffle those memories and feelings into the far reaches of his mind so when he thinks of you, he will only think of the good times and the close feelings of love.

How to plant a seed of longing in his mind that makes him miss your smile, your touch, your smell… no matter how bad things have gotten.(This one thing will make him feel a hole in his life that only you can fill and he won't be able to get you out of his head)

How to rekindle the magic of the "Honeymoon Stage," powerfully trigger his chase instinct to fight for your love, and bulletproof your bond to weather any storm - Using a revolutionary technique to "Rewrite" your relationship

What you have to do as soon as humanly possible if he's completely cut off contact with you- This tactic is the surest way to get his full, undivided attention when things have gotten really bad...

Why 9 out of 10 women's first instinct to get their man back… is the absolute WORST thing you can do and often ruins any chance of getting back together with your man...

How to close the door on the past so that old wounds and arguments don't come back to haunt you...






What the couples that LAST do to strengthen their love when big issues and arguments threaten their relationship. (This is the #1 thing that gets couples to their 20th anniversary and beyond)

What you have to do to make your man see that getting back together with you is a win-win situation - This is crucial if you want to level the playing field (and slightly tip the scales of power in your favor)

PLUS- How to become a master of the little things in your relationship. Know what draws him in and what pushes him away to such a fine degree that he will feel you're the only woman who truly gets him - and he will never let you go...

And much much more...


Now Is Your
Time

Imagine what it will feel like to have him quickly and excitedly responding to your texts and calls again… to have him making plans with you again... to see his face light up when you walk into the room… to be back into his arms.

Imagine how good it will feel to have him whisper that everything is going to be alright… that the two of you are going to make it… that he wants to keep you forever.

This is one of the most powerful and successful methods out there for getting your man back because it actually mends what's broken and rekindles REAL passion and connection.

There are no games, guilt trips or sneaky tricks to drag him back only to have the same issues threaten your love again.

So if you want to stop imagining your happy ending and start actually experiencing his love, reconciliation and your new and improved relationship…

...if you want to feel that emotional relief, that overload of joy as he comes running back…

...to actually hold him in your arms again and know that things are going to be okay… in fact better than ever…

Then Rewrite Your Relationship is specifically for you.

There is nothing else out there like this. No other advice or relationship course will bring him back to you like this, in the genuine way that you want. And if you consider what many women have paid in money and time to get this same method in private coaching sessions

The one time investment of just $47 is an incredible value for this comprehensive relationship course. And a very small price to pay to bring your man back into your arms where he belongs.

And you can try it completely risk free. As with all of my courses, you have a 60 day, no questions asked money back guarantee. Just try this method out for yourself. See how well it stirs the emotions and memories in your man that will have him brimming with new passion and commitment.

If you aren't happy with how this course transforms your relationship for any reason, I will gladly give you back every penny, hassle free. I stand by my work and I'm confident the two of you will make it through this. But I urge you to act fast...

Because the window to make things right won't stay open for long. Every day he is apart from you the gap grows bigger. So please don't wait until it's too late.

Everything you need to know, do and say to get your man back to rewrite the story of your relationship is right here.

Just click Add to Cart to begin your "Relationship Rewrite"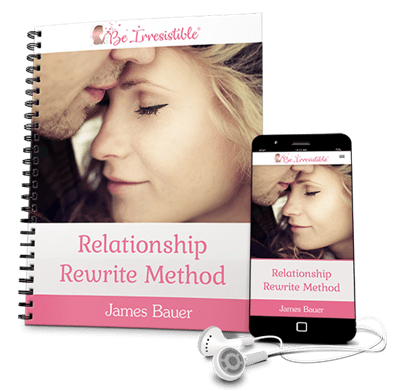 Click here to order using our secure payment system!
Get instant digital access right now!

Add To cart for only $47
Questions? Call 1-800-755-4364


Frequently Asked
Questions

I really look forward to hearing how Rewrite Your Relationship transforms your love life. And when you see your first bit of success, I would love to hear about it! Nothing would make me happier

Remember, in this very moment you have the most power to change. It's up to you to decide between happiness and heartache.

This decision is the only thing standing between you and the love and commitment you deserve. So seize this moment before it's too late! Click the button right now, and let's get started!

To your relationship bliss,

James Bauer
Creator, BeIrresistible.com
P.S. Remember, there is more real, actionable information on attracting and committing a man in this short, practical guide than you'll get reading a dozen books. The secrets inside have worked for many other women just like you, and it's 100% guaranteed so there's literally zero risk to test it out in your life.

P.P.S. Right now, you can get this amazing information for just $47, Which is way less than the cost of what most people spend on Starbucks in a month. You deserve to have an amazing relationship with a loving, caring, committed man NOW instead of years from now, so don't miss this chance for true love and happiness...
Click the
add to cart
button now
and get instant access to this powerful system!
Our Recent Customers
*Names are always changed to protect privacy
References

Ritchie, Stuart & Cox, et al. (2018). ... Differences in the Adult Human Brain: Evidence from 5216 UK Biobank Participants. Cerebral cortex (New York, N.Y. : 1991). 28. 10.1093/cercor/bhy109. - How men's brain's work.

Johnson, M. D., Horne, R. M., Hardy, N. R., & Anderson, J. R. (2018). Temporality of couple conflict and relationship perceptions. Journal of Family Psychology, 32(4), 445-455. doi:10.1037/fam0000398 - What makes long-term relationships work. Conflicts are temporary. How to get past conflict.

Anderson, Cameron & Hildreth, John & Howland, Laura. (2015). Is the Desire for Status a Fundamental Human Motive? A Review of the Empirical Literature. Psychological bulletin. 141. 10.1037/a0038781. - Male need for respect.

Canevello A, Crocker J. Creating good relationships: Responsiveness, relationship quality, and interpersonal goals. J Pers Soc Psychol. 2010;99(1):78-106. doi:10.1037/a0018186 - Showing him you believe in him. He's the one for the job.

Reis HT, Lemay Jr EP, Finkenauer C. Toward understanding understanding: The importance of feeling understood in relationships. Social and Personality Psychology Compass. 2017:11(3):e12308. doi:10.1111/spc3.12308 - You value his point of view and abilities.

Anderson, Cameron & Hildreth, John & Howland, Laura. (2015). Is the Desire for Status a Fundamental Human Motive? A Review of the Empirical Literature. Psychological bulletin. 141. 10.1037/a0038781. - Male need for respect.


Beirresistible Guarantee
At Beirresistible we stand behind our products and training. We know this material works, and so we offer a 60-day, 100% money-back guarantee on everything we sell.

Feel free to test any course or product with the assurance that if it's not a great fit you can easily get all your money back.

We'll happily give you a refund, plus you can still keep the program.
×
HOLD ON!
DONT LEAVE THIS PAGE
Stay on the page to get my FREE attraction secrets newsletter
Show Me The Attraction Secrets!